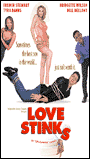 Love Stinks (1999)
Starring: French Stewart, Bridgette Wilson
Director: Jeff Franklin
Reel Snapshot: Lowbrow comedy about a commitment-phobic man pushed by his manipulative girlfriend right into a palimony suit. Its insipid, misogynist comedy will only have the most devout of 3rd Rock's French Stewart fans laughing.
> Full-Length Review

Runtime: 94 minutes
Rating: R
Genre: Comedy
DVD Details: Click Here

Reviews

Los Angeles Times - 2
Gene Seymour simply states that "low comedy doesn't get any lower" than this film. He thinks Stewart's a funny guy on 3rd Rock from the Sun, but complains that his talents are wasted here, especially as a romantic lead. USA Today - 2
USA Today calls this "the most malevolently misogynist movie we are likely to see this year." They agree that Stewart's a funny actor, but not leading-man material. New York Times - 2
Anita Gates calls this a "one-dimensional comedy that mostly falls flat," saying that the characters aren't convincing, and the humor isn't effective. She's unwilling to get worked up about its misogynist undertones because she says the whole film doesn't make much of a statement.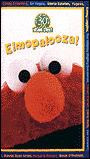 Sesame Street: Elmopalooza! (1998)
Starring: Elmo, David Alan Grier
Reel Snapshot: Wildly popular character leads his own music festival, celebrating 30 years of Sesame song and laughter. Elmo's all-star lineup includes David Alan Grier, Gloria Estefan, and Rosie O'Donnell. Ages 2-5.

Runtime: 50 minutes
Rating: Not Rated
Genre: Kids
DVD Details: Click Here

Reviews

KIDS FIRST! Kid Juror Review -
KIDS FIRST! All-Star Endorsement (three-star rating). Children were entranced and entertained. "I want to hear more songs." "I can mambo now!" "I liked when the cookie monster eats the script." "I like to dance with this." Ages 5-8. KIDS FIRST! Adult Juror Review -
KIDS FIRST! All-Star Endorsement (three-star rating). Funny and entertaining. Music makes everyone want to dance. Great humor, superb mix of learning. Kids are exposed to a variety of rhythms and music plus interesting facts. Ages 5-8.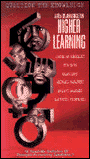 Higher Learning (1995)
Starring: Jennifer Connelly, Ice Cube
Director: John Singleton
Reel Snapshot: Ambitious drama explores the explosion of racial, class, and cultural divisions at a college. Critics were mixed, though many praised the performances. Enjoyable for fans of thought-provoking, socially relevant dramas.

Runtime: 126 minutes
Rating: R
Genre: Drama, Gay/Lesbian

Reviews

New York Times - 5
Los Angeles Times - 5
Rolling Stone - 6
Time - 3
Newsweek - 3